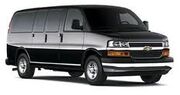 In every episode, Happy Appy drives a unmarked black van with tinted windows.
The first van was was a miniature white 1996 Ford Windstar, and the second was an actual black van. After the scene in the Happy Appy Movie, they bought a new van. After the part in Happy's Rising with the grenade, a new black one was bought.
In Happy's Van Breaks, his van's engine broke. Happy steals a mechanic's toolbox and gets to work on the engine. The mechanic, in response to his toolbox being stolen, breaks Happy's engine. Happy gets pissed and kills the mechanic with a screwdriver.